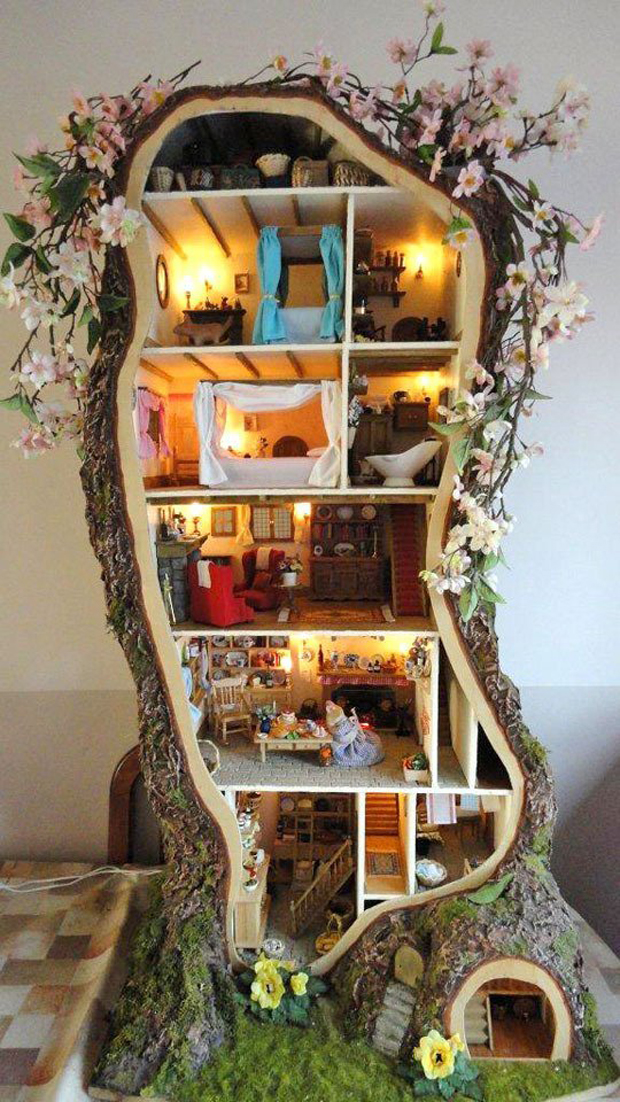 This amazing and breathtaking miniature treehouse leaves me speechless. The creator Maddie Chambers, who lives in Chesterfield, England – inspired by the book Spring Story by Jill Barklem, decided to recreate the "Crabapple Cottage." She spared no detail, spending 11 months constructing the entire structure from scratch and molding many pieces from Fimo clay such as the miniature basket of mushrooms.
And make sure you take in her first project which was a handcrafted Lord of the Rings dollhouse. Maddie has read the Lord of the Rings over 20 times and was inspired the very first time she picked up the book at the age of 10.
Here's more of the  Miniature Mouse Tree House. Maddie shares all of the details of how she created this masterpiece on her blog, just in case you want to attempt something like this.  And take a look at the great photos of the project as well as close-ups of the more intricate flourishes. Every time I look, I see something new as I'm sure you will.
And just as a side note, apart from building structures like these, this incredible and talented mama not only is bringing up 8 year-old twin boys, but works part-time in IT, plays guitar – acoustic and electric, (her favourite music is rock music – Guns N Roses, Metallica, Stone Sour, Incubus etc.) and she also does Kickboxing, Body Combat, Zumba etc. Whoa!