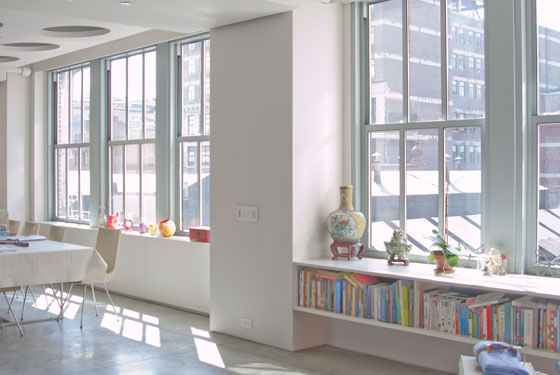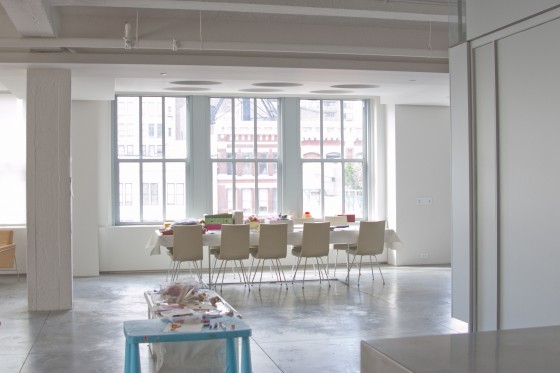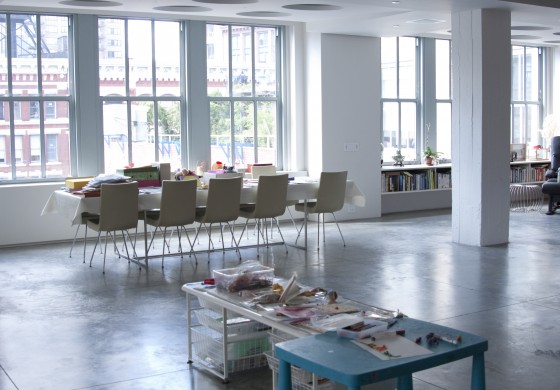 This is the very first in a series of posts called "Beautiful Spaces and Their People". This fantastic ultra-modern loft apartment belongs to my lovely and compassionate friend, Art, her husband and two kids. Art is development coordinator and co-leader for Attachment Parenting International NYC.
When Art and her husband were in talks with their architects Desai/Chia about the building of this magnificent space (for which they won many design awards), the most important thing for them was to let as much light in as possible, which they achieved with the help of a luminous wood and glass system which allows light to bounce through while creating privacy where needed. And light plays a huge part in the decor, reflecting off the poured concrete floors throughout. What I love about this place is that even though it is so modern and clean, it looks lived in and they leave evidence of all their art and other projects around the house.
Art's fave thing about her apartment: space and sense of serenity.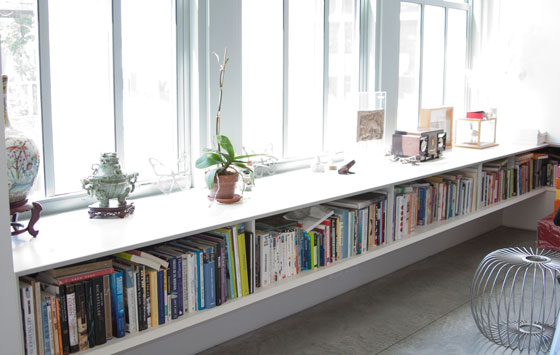 This is a perfect bookcase – low enough so the kids have access to all of their books and plenty of space.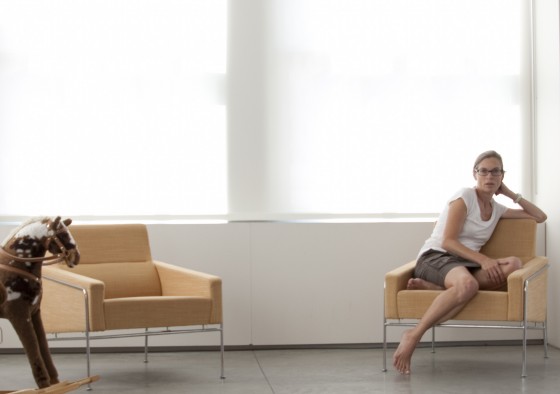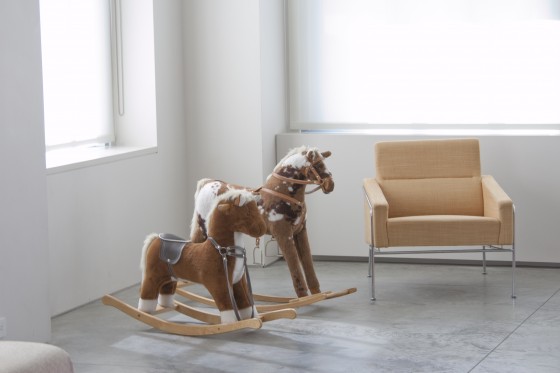 These rocking horses look so cute and unexpected next to the Arne Jacobsen for Fritz Hansen chairs. Here is a similar horse to the little one from Melissa and Doug.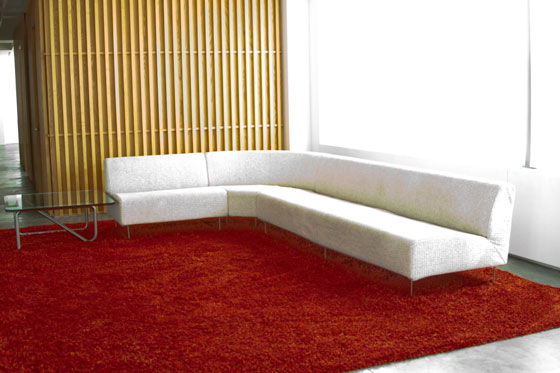 The bright red rug provides a central splash of color with the Cappellini sofa floating on it.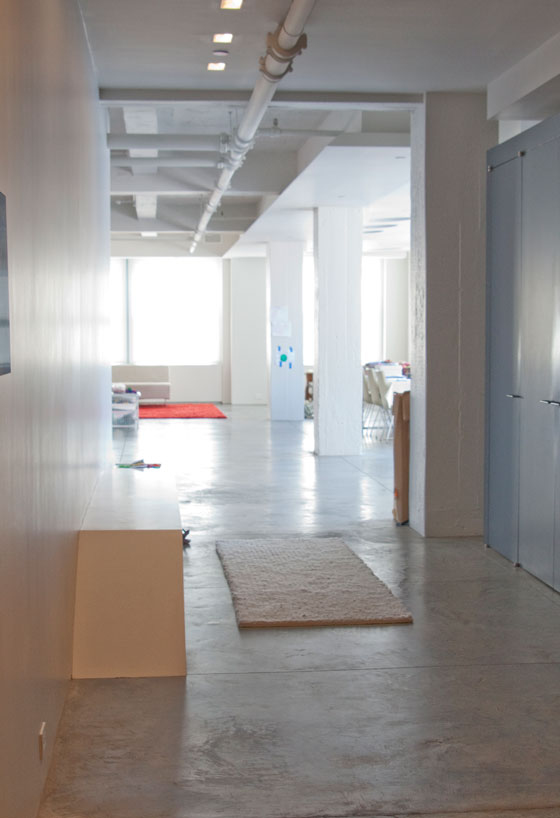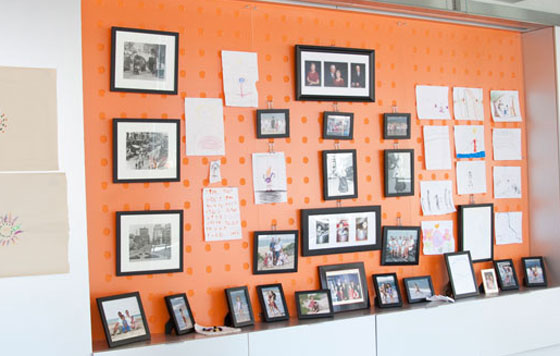 This is such a great idea. A hanging wall for photos and artwork and a handy ledge for propping them up. Love the orange background.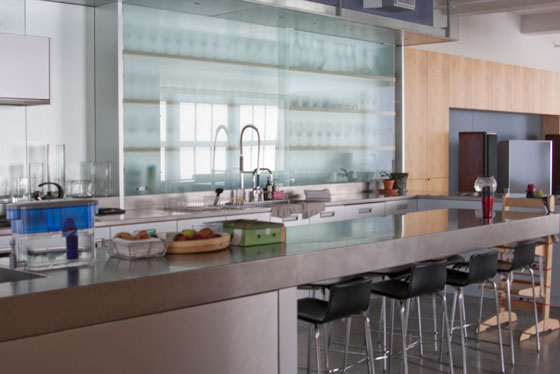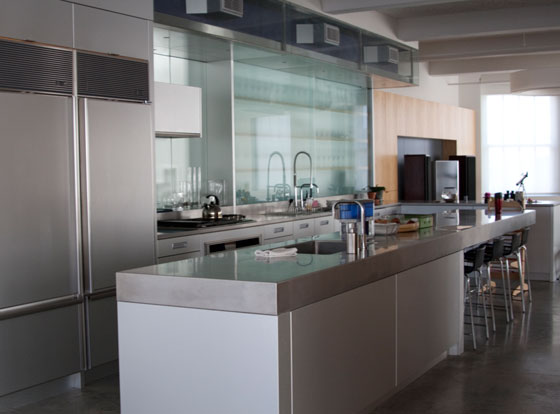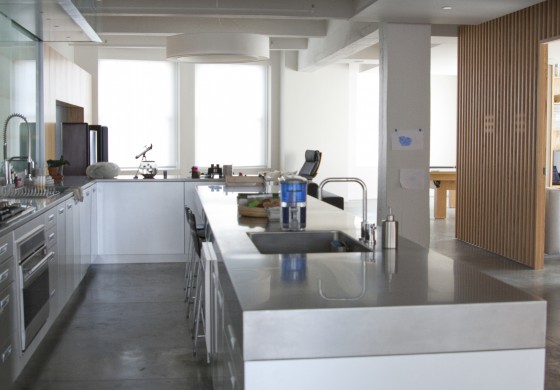 This kitchen is a dream with the built in table at the end of the workspace/island, two sinks and huge cabinet for glasses.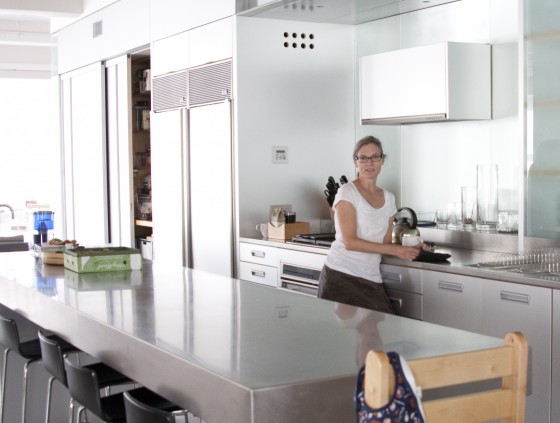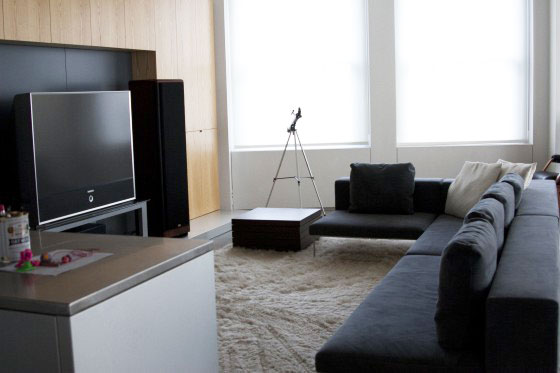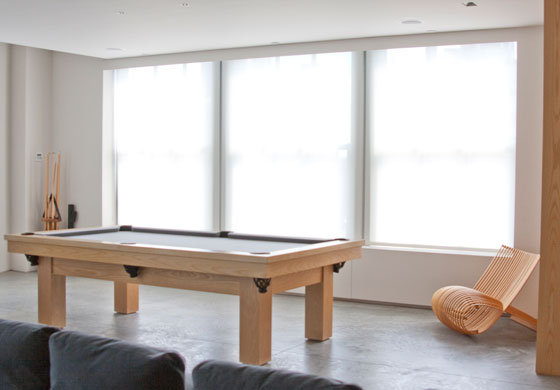 The Capellini Marc Newson bent wood chair is wonderful next to the custom pool table.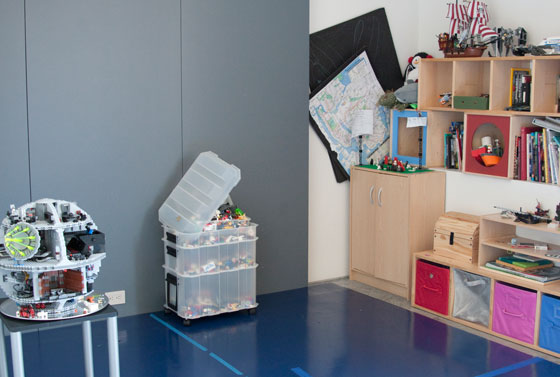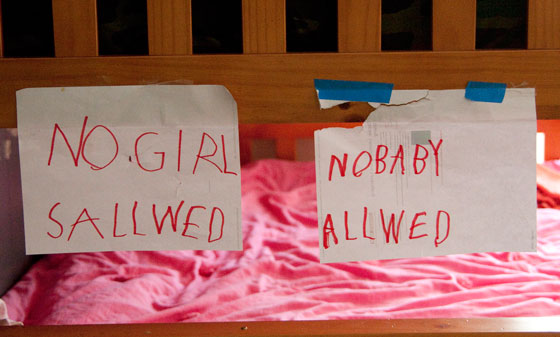 And the kids get in on the designing act!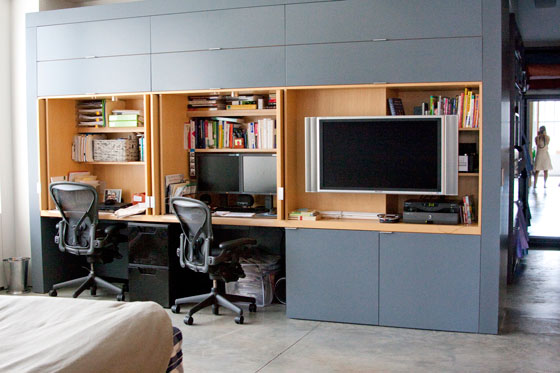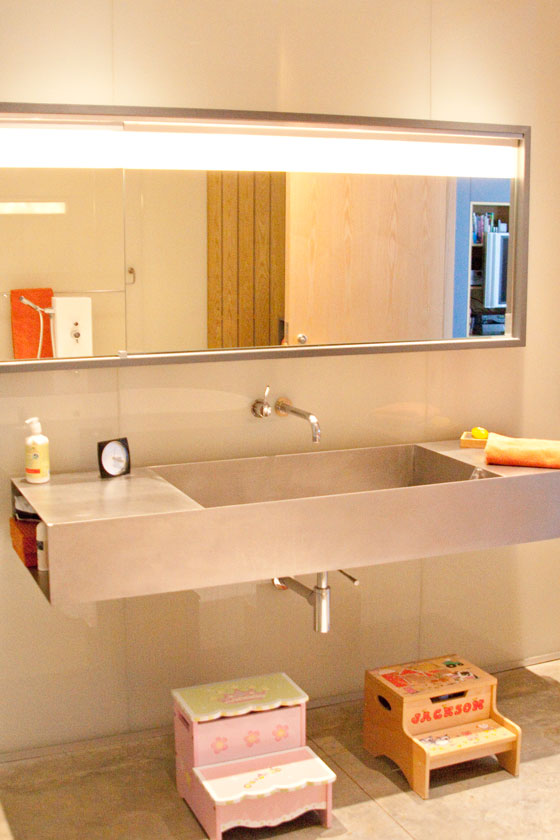 The bathroom has the architects' signature porthole windows, trough sink and stunning Agape bathtub.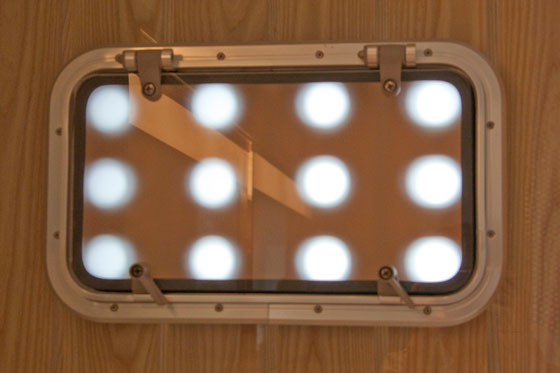 And seeing we are all about books on Bellissima, I asked Art for her favorite kid's book picks. Here they are:
Winnie the Pooh – Pooh and his friends are a little bit like all of us and Pooh's perspective is so fresh and innocent that we're able to discover the unexpected gifts of each friend and a new way to see things more objectivity, simply and clearly.
Little Bear – such gentle stories that move like a summer breeze in tall grass. Covering timeless themes of belonging, relationship, friendship and all that is related, stories unfold slowly and thoughtfully and introduce us to an unfussy nature in the wild and a benevolent nature that is in each of us.
Duck on a Bike – can you see my theme here??!  We're all different, but all quite lovely just the same!  This one is a really fun/ny bit about a Duck who just by doing something novel (riding a bike of course) gets every barnyard animal riled up and commenting.  The truth is that they are all  excited to have bike rides of their own no matter what they've thought about Duck and have a great rolic in the barnyard when a bunch of kids aren't looking.
Alexander and the Terrible, Horrible, No Good, Very Bad Day – a sweet story about how mundane events accumulate into a terrible day for a little boy.  It opens our perspective and also helps us see how in spite of the "sky falling," we can get through pretty well and find that even adults have days like that too.
Blueberries for Sal – classic, sweet story of being mixed up and found while picking blueberries
Pippi Longstocking – we're really loving Pippi who is SOOOO resilient and funny, but it's more of a chapter book vs a picture book.  Pippi lends her own unusual, yet fun, joyful perspective on life despite being an orphan.
The Sons of the Dragon King – this is a lovely book.  Though not a picture book per se, it is beautifully illustrated in Chinese style. It's yet another story of how what to some appear to be punishable traits, with great wisdom and vision, turn out to be treasured, helpful and unique gifts.