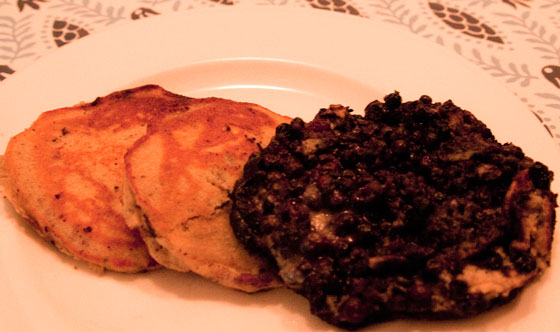 As I was coming into consciousness this morning to the sweet sound of the baby crying, I thought of pancakes. Yes, today was definitely a pancake day. So, seeing I'm on a gluten-free, dairy-free, soy-free diet for the moment, I had to stretch my culinary skills to make something that was appetizing and that still resembled pancakes. Phew.
This is what I came up with. They were pretty good. My daughter ate four and told me I was an "artiste chef", which can't be a bad thing. The baby ate one and threw the rest on the floor. If you suffer from Celiac's disease or are cutting out gluten, soy and dairy, then these should be okay.
Although I think that misshapen pancakes can look charming, I have finally gone ahead and ordered one of these pancake droppers. Why I never bought one before is beyond me as I love things to look perfect, and we are always making some sort of pancakes in this house. I will use it next time and show you how they turn out. The recipe below makes about 12 pancakes.  BTW, the napkin is from Ikea. Let me know if you try them out.
Blueberry, Banana, Coconut Pancakes (gluten-free, soy-free, dairy-free)
Mix together in bowl:
1 cup Bob's Red Mill Sweet Sorghum Flour (or if these are not available, other non-gluten flours such as rice or buckwheat would work too).
1 cup Bob's Red Mill Garbanzo and Fava Flour
1 cup Bob's Red Mill Arrowroot Starch/Flour
1 teaspoon Rumford's Baking Powder (this is Aluminum-free)
1/4 teaspoon salt
In another bowl, mix together:
3 large eggs
1 cup coconut milk (we used Trader Joe's lite milk but any will do)
1 fairly large, very ripe banana
1 teaspoon vanilla essence
2 tbsp extra-virgin coconut oil
(you can zap it with a bamix or cake-mixer for a few seconds).
Add the egg mixture to the flour mixture and stir. If it seems too thick, add a bit of water to get the consistency you want. Drop into heated skillet greased with coconut oil. Sprinkle many fresh or frozen blueberries onto pancakes. Turn when ready. These are sweet/rich enough that they don't require any syrup or butter. Enjoy.