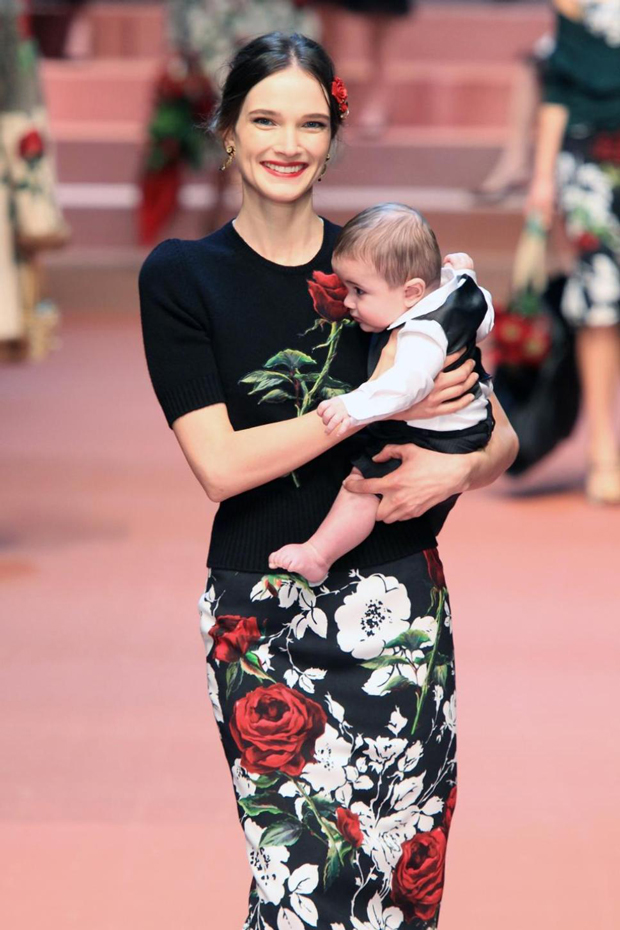 Dolce & Gabbana's motherhood-themed Fall/Winter 2015 show at Milan Fashion Week on Sunday featured models carrying babies and prints inspired by children's doodles. I know that there has been criticism about the way moms are being portrayed in this parade (not sure how we should be portraying them in a fashion show!) but really, I'm just glad to see pregnant women and moms with babies on the runway at all. And much of the garments were just completely lovely, even for moms.
The show, which was called "Viva la Mamma," also included giant jewel-studded headphones and colorful silk prints based on kids' drawings.
Several model mothers cradled their D&G-wearing tots as they walked down the runway. Bianca Balti, who is six months pregnant, showed off her baby bump in a pink dress. Another model and her young daughter wore matching frocks.
The joyous and giant red roses and messages of love were a high point for me. And the kids' drawings all over the dresses. Angelina Jolie's wedding dress has started a trend.
To see all of the runway shots, go to Vogue.