East Hampton and Amagansett trip
July 21st, 2011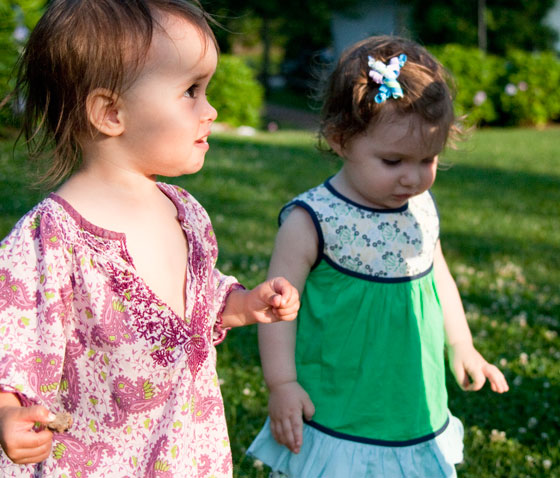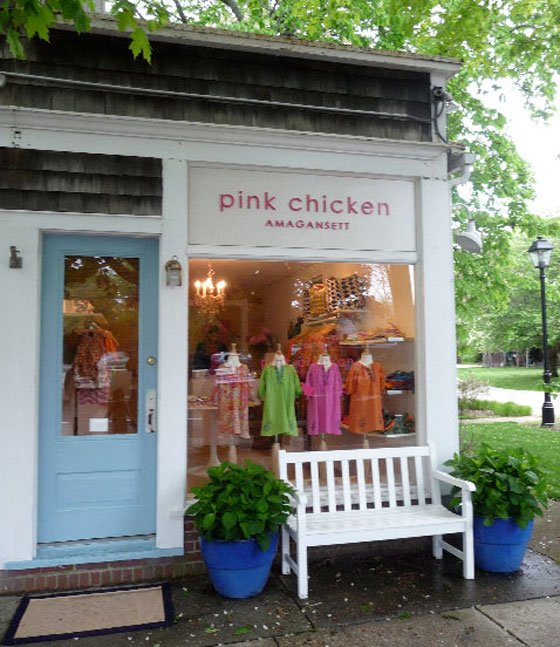 I mentioned in an earlier post (see Sombrilla) that we were headed to East Hampton for a few days last week. Well, I did indeed get back in one piece. In fact, the girls were little angels in the car. For our non-New York readers, East Hampton and Amagansett are about 3 hours by car from Manhattan on the south shore of Long Island. Here are my picks:
Pink Chicken: The adorable little girls in the photo above are my daughter Solène (pictured right), and her little friend whom we call "Gigi a la Mer" (pictured left) because we speak French among other things in this household and we were talking about visiting Gigi who happens to live by the sea some of the time. But I digress. Gigi is sporting a dress by my new fave find, Pink Chicken and their flagship store is in Amagansett on Main St. I walked in and just sighed with joy. The shop has the most vibrant collection of Bohemian inspired clothes, especially dresses, a cozy atmosphere and the manager is super friendly. They also have lovely clothes for Moms. Pink Chicken is designed and owned by Stacey Fraser, a 15-year fashion veteran (babyGap, Tommy Hilfiger, Ralph Lauren) and mother-of-two beautiful daughters! So, guess who her muses are…
Now, Solène, in case you were wondering is wearing a Sage Creek Organics ensemble (one of my favorite organic labels). I loved this outfit so much, I bought it when she was 6 months old and saved it. They still have a couple left on sale but no more in this color.
Hampton Chutney Co.: This is the original Hampton Chutney Co. which opened in 1997. The owners, Isabel and Gary MacGurn met at the Siddha Yoga Meditation ashram in Ganeshpuri, India in the Ashram kitchen. We've been to the Soho location many times but this one has a different, airy atmosphere and a lovely sitting area outside. Dosas (large, crispy, sourdough crepes) are made from rice and lentils, so are good for gluten-free peeps and we all just love them. In addition to the traditional Potato Masala filling, they have Grilled Portabello Mushrooms, Balsamic Roasted Onions, Spinach and Goat Cheese or Avocado, etc. There's even a breakfast dosa with Eggs, Spinach, Roasted Tomato, Cheese and Avocado. All dosas are served with fresh chutneys of course. I'm getting hungry for one as I write this!
Atlantic Ave. Beach, Amagansett: Okay, so I know that Main Beach, East Hampton, made the top 10 list of beaches this year, but I preferred this beach. It was much less crowded and much simpler and we got parking with no problem at all. The girls had a ball and the walk to the beach isn't too far for baby-toting Mamas like me. It's at the south end of Atlantic Ave. off Bluff Rd., Amagansett.
Blakes B & B: Featured in Elle Magazine's "Secret Adresses & Country Living", this is the most reasonably priced B & B for Mon/Tues nights that you will find in East Hampton. I know because I looked far and wide. It's five minutes from the center of East Hampton and one mile from the beach. Oona was thrilled at being served breakfast in the garden. The room was comfortable and clean and there was a great claw-foot bathtub in the bathroom. Originally an 1810 farmhouse, the place is definitely rustic. There is an arty sitting room with TV and the whole place is decorated with items the owners have collected over the years. Children over 10 years of age are welcome, but Jeanie Blake made an exception for us because I promised we wouldn't destroy her sisal mats with baby food. We kept our promise!
Check out this nice video of Blakes Bed and Breakfast.