We are huge Ponyo fans at our place. And if you and your kids are fans of Studio Ghibli animated films also – then you might find these Studio Ghibli posters, which have been made as traditional Japanese woodcut prints, pretty amazing.
Inspired by legendary Japanese artists like Kawase Hasui and Hayao Miyazaki, illustrator Bill Mudron has come up with a series of posters that marries past and present art forms.
Using wood-cut techniques by Hasui, Mudron reimagined Miyazaki's films with a different aesthetic, one that throws a traditional light on contemporary art. Among the Studio Ghibli's films he illustrated are My Neighbor Totoro, Princess Mononoke, Spirited Away, Porco Rosso, Kiki's Delivery Service, and Castle of Cagliostro.
'I just happened to see 'The Kingdom of Dreams and Madness' last summer a week before getting my hands on a copy of a two-volume book about Kawase Hasui', Mudron said in an interview with The Creators Project.
'I was so blown away by the Studio Ghibli documentary that a lot of it was still swirling around in my brain when I sat down to pore over Hasui's work, and so I thought trying to combine the aesthetics of both would be a fun experiment'.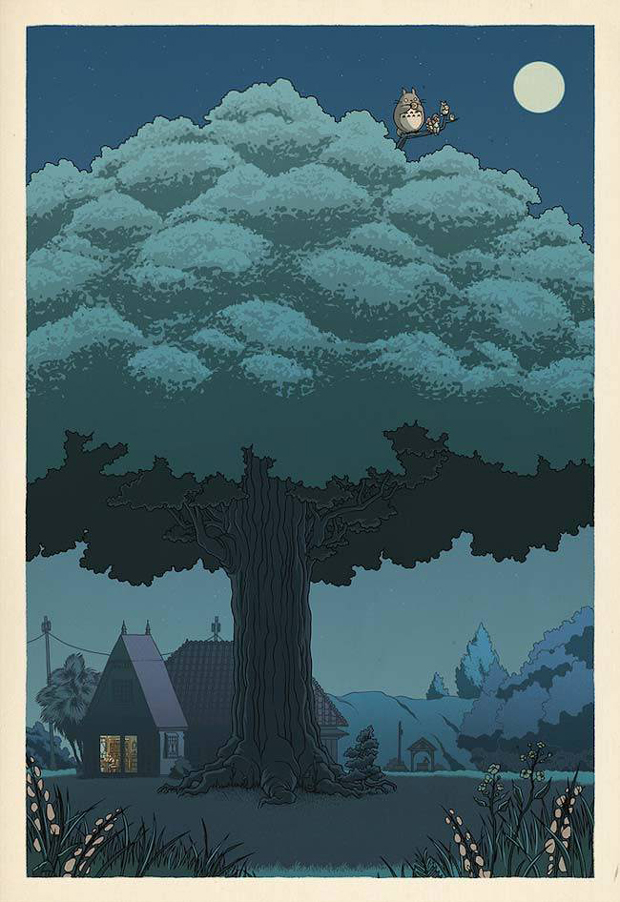 "Of all the Japanese print artists that I've seen, Hasui's are definitely the most modern-looking—they often almost look like comic book art—and so marrying them to the aesthetics of a Miyazaki animated film wasn't too hard," Mudron says. He illustrates his prints entirely in Photoshop, constantly glancing between his screen, a stack of Studio Ghibli reference books, and the aforementioned two-volume book about Hasui. But getting the style down wasn't his greatest challenge, he explains: "The roughest part was balancing the colors, weirdly enough."
This experiment has obviously touched a chord, because Mudron's online store has been swamped with orders. Here is his online store for the whole collection.