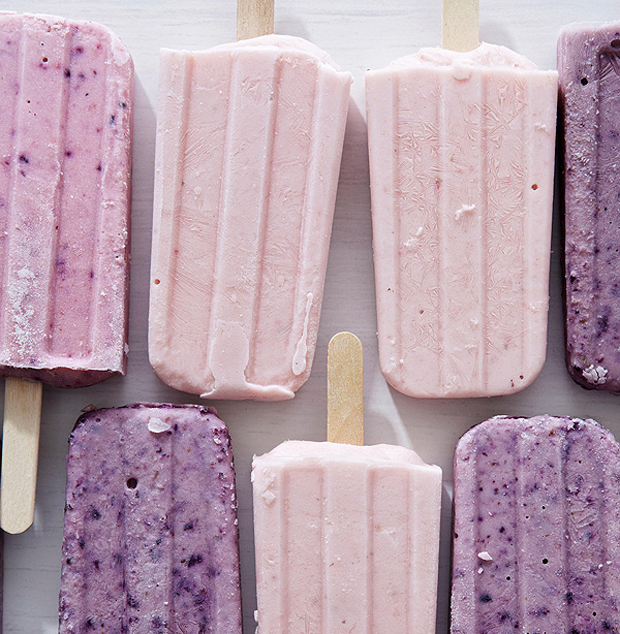 We are back in our Popsicle Obsession for summer and will be making these tomorrow – Jamie Oliver's Yoghurt Popsicles.
Made with no sugar at all and only fruit, yoghurt and honey, they are a completely healthy alternative to the average popsicle. As Jamie says: "These yogurt pops are great alternatives to sugary lollies found in regular stores," says the chef. "They will satisfy anyone with a sweet tooth regardless of age."  See full recipe below!
Jamie is the author of Jamie Oliver's F0od Revolution and is dedicated to bringing healthy food to all and to keeping alive cooking skills. He has wonderful initiatives in place via his foundation like the Kitchen Garden Project which is a unique online community and teaching resource that supports UK primary schools in bringing  food education and cooking skills to life. Here is the website: http://www.jamieskitchengarden.org
And see these past posts on crazy-delicious popsicles like the Delectable Samoa Popsicles, and these 5 Best Popsicle recipes for summer!

Jamie Oliver's Yogurt Pops
Makes 6 (4-oz.) pops
2 small ripe bananas, peeled and sliced
1½ cups frozen strawberries or 1 cup frozen blueberries
2 cups non-fat plain yogurt (or whole yoghurt)
2 tbsp. honey
1. Combine bananas and remaining ingredients in food processor or blender; process until smooth.
2. Divide mixture evenly among 6 plastic molds or small paper cups. Freeze pops 10 minutes; insert popsicle stick or small plastic spoon into center of each. Freeze pops at least 3 hours or until frozen solid.
3. Run each mold under warm water. Gently pull each pop from mold or peel paper away. Serve immediately.