Jeanne Omlor Rag Doll
October 14th, 2011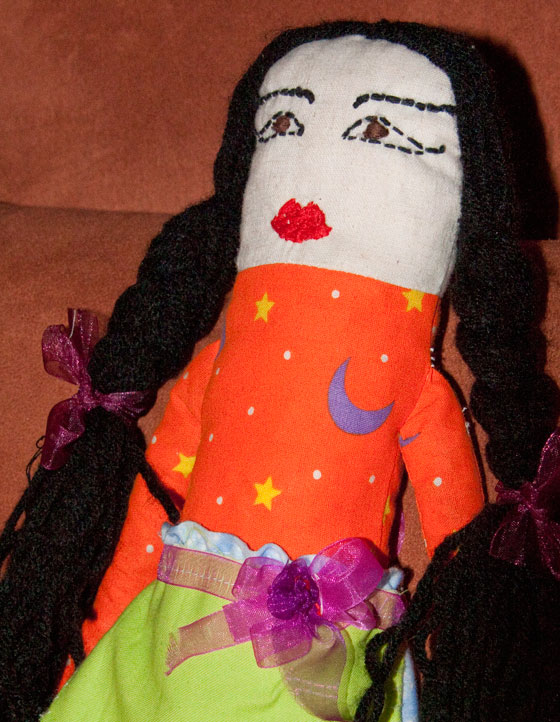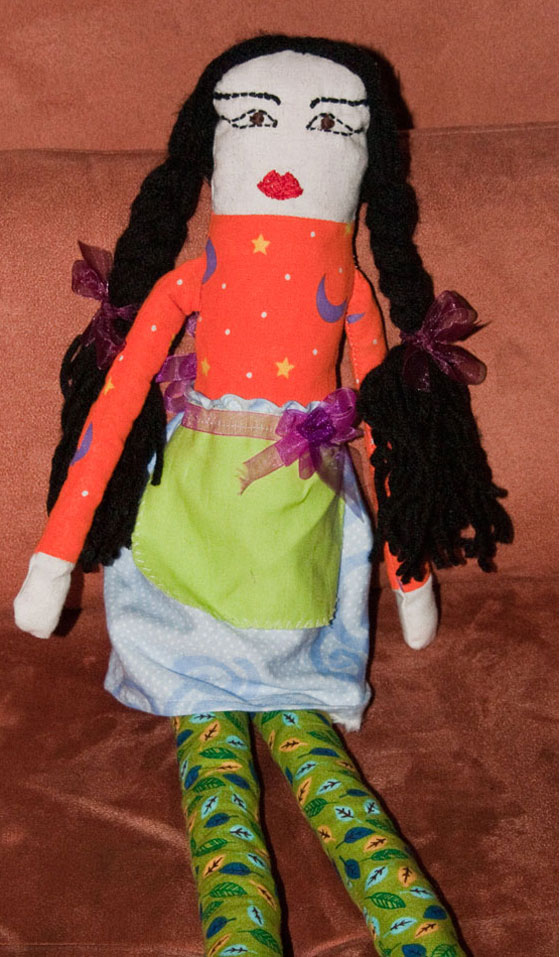 After being so inspired by the dolls of Apolline à Paris, I decided to make Oona a rag doll. And here it is! It took me a while and I even did some of the hand-sewn parts at the park while Solène was sleeping. Oona helped me design it – I set out various fabrics and she helped me choose. She also chose the eyes and mouth she wanted from various drawings. We ended up using fabric by Robert Kaufman for the legs, two different fabrics from Harmony Art (whom I blogged about here earlier) for the apron and I had that orange fabric leftover from another project from ages ago. And this is a real rag doll in that I used Harmony Art Organic fabric scraps to fill it. I like the weight that the fabric scraps lend to the doll as opposed to some of the fiber-filled dolls out there. Here is a video on how to make rag dolls and of course, you can use your own imagination. Next time I make one, I will take photos of the process for you all.
Now for the funny part: I asked Oona what she was going to name her doll and well, she named it Jeanne Omlor! Not just Jeanne, but my last name too because the doll has brown eyes like her Mama. Aww. So, that is why this is in all ways a "Jeanne Omlor Rag Doll". It is a little disconcerting referring to the doll as myself but she insists on the full name.
I started to take photos of Oona with her new doll but it looks like I will have to make Solène one too very soon…see "Doll Drama – a series of photos" below.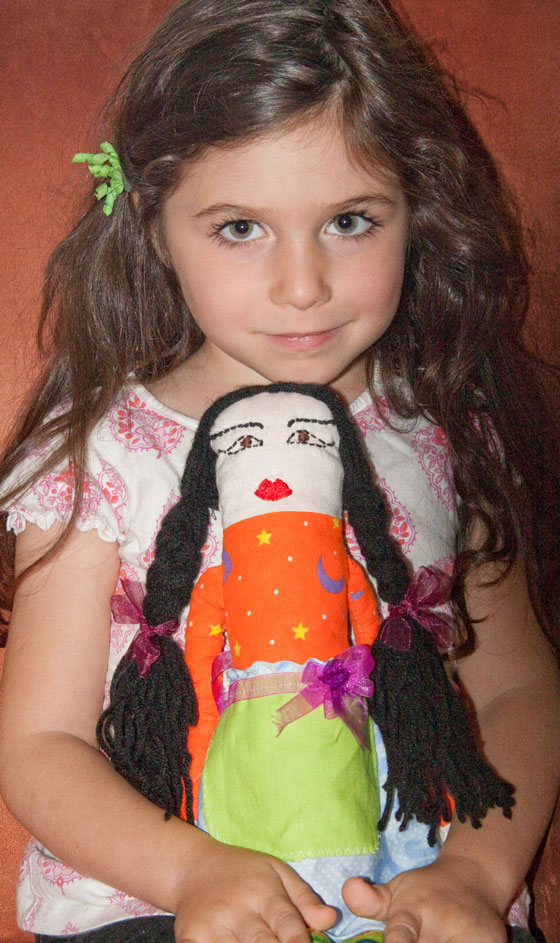 Note the little hand creeping up above.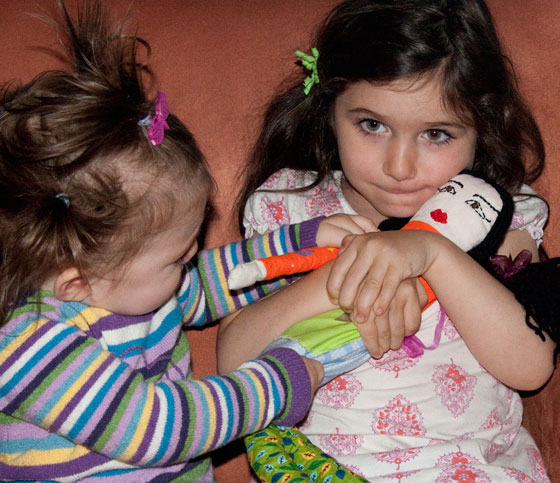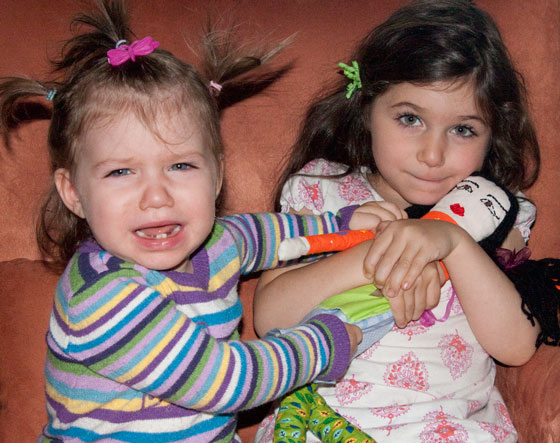 They are treating that poor thing like a …rag doll!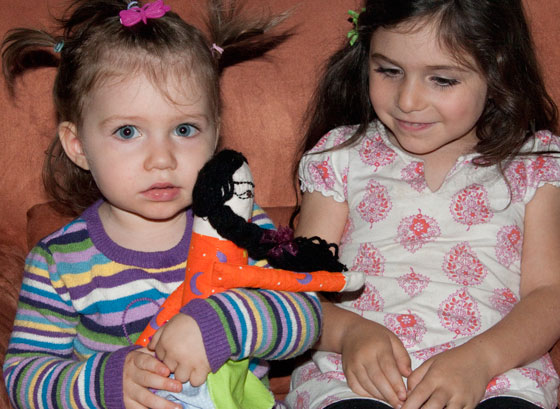 Victory at last for Solène. Oona being a nice big sister and sharing.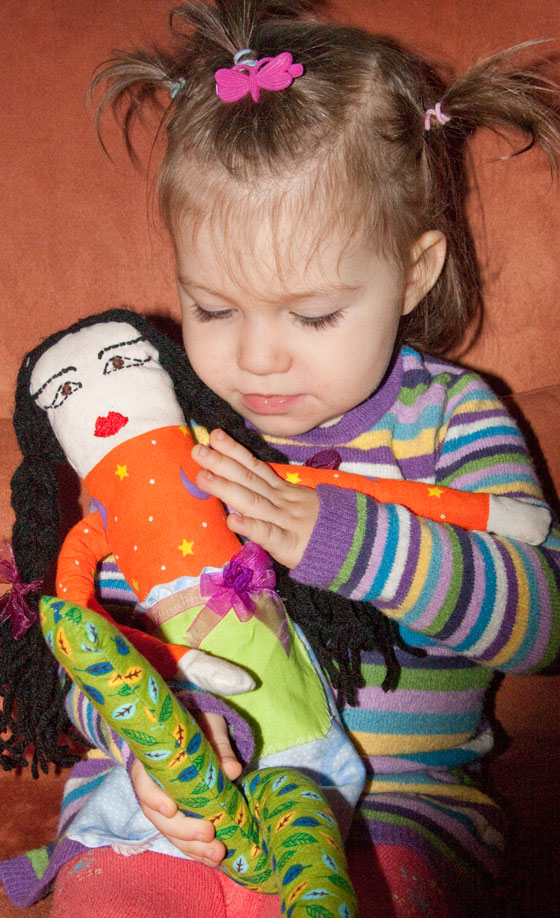 Uh oh. We are in trouble now…