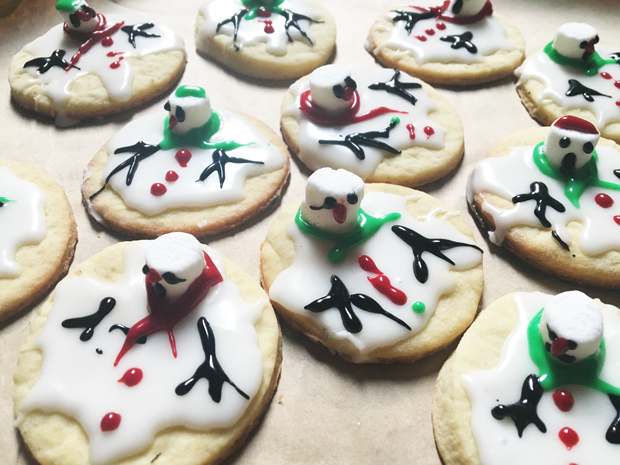 So, what do you think of our Melted Snowman Christmas Cookies!? We decided to go for something different and humorous this year. Only thing is that some people are saying these look macabre! I guess it does remind us a little of the Wizard of Oz and the "I'm melting. I'm melting", scene of the Wicked Witch of the West.
These are simple sugar cookies, with a marshmallow and some art and well, I think they are quite dramatic for cookies.
If you want to try these out too, the recipe is below.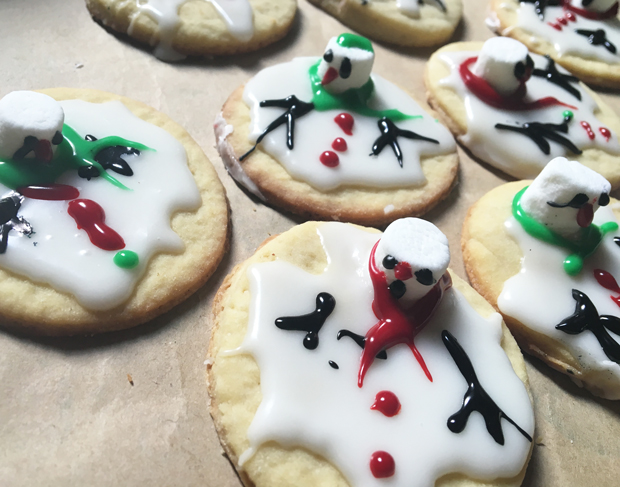 Sugar Cookies
Ingredients:
1 cup butter
1 cup sugar
1 large egg
1 teaspoon vanilla extract
2 teaspoons baking powder
2 3⁄4cups flour
Directions:
Cream butter and sugar.
Add egg and vanilla.
Mix all dry ingredients and add slowly to butter cream mixture until incorporated.
Roll out on lightly floured board to desired thickness.
Cutout 2-1/2″ hearts and bake at 400 degrees for 7- 10 minutes.
Should be light in color with light browning on the edges.
Icing
Ingredients:
Directions:
In a small bowl, stir together confectioners' sugar and milk until smooth. Beat in corn syrup and almond extract until icing is smooth and glossy. If icing is too thick, add more corn syrup.

Divide into separate bowls, and add food colorings to each to desired intensity. Dip cookies, or paint them with a brush.