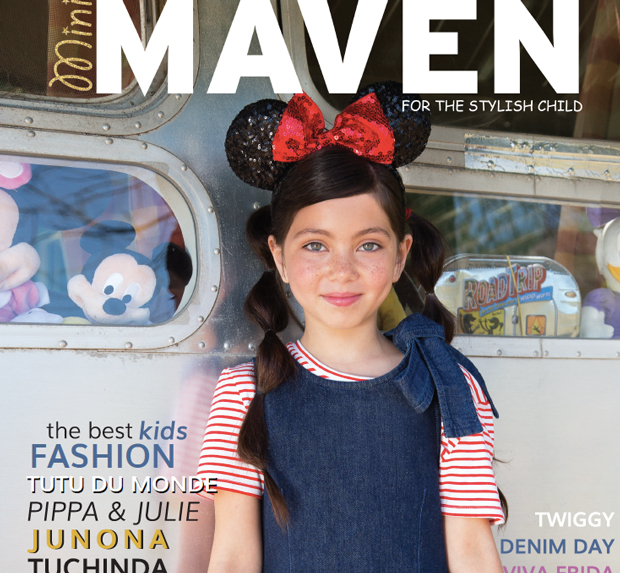 It's here! MINI MAVEN Launches Fall/Winter 2016 ICONIC Print Issue
My friend Kymberly Marciano (who I featured a while back) and her team have done it – a wonderful and sophisticated approach to Children's Fashion in a Modern World. The admired digital destination for the stylish child and parent, launched their printed issue. The issue features beautifully curated and exquisite editorials by creatives from around the world celebrating stylish muses and aspects of the industry that are forever iconic. Innovative fashion, culture and inspiration are the foundations for each story, flawlessly celebrating all things we love for the little ones and their modern world.
The mag features cutting edge fashion editorials with inspirations from our favorite style icons including, Twiggy, Brigitte Bardot, James Dean, Frida Khalo, Charlie's Angels and Mickey Mouse, to name a few!
Mini-Maven is shining a spotlight on featured brands April Showers, Junona, Paade Mode, Pippa & Julie, Tuchinda, and Tutu Du Monde along with Child prodigy Elisabeth Anisimow and renowned children's wardrobe and prop stylist Heather Rome. Jena Holliday makes an appearance once again to illustrate nine global style setters who are shaping the ever-changing modern world of lifestyle and fashion.
Many talented artists joined forces to participate in this publication in part because of Kymberly's passion for children's fashion, philanthropic causes and her vast experience as photographer, creative director and director. Marciano notes, "Working with notable creatives, stylists, photographers and brands have brought this Iconic issue to life, thus bringing you the highly anticipated print issue coming your way this Fall!"
And here are some images from the mag! And you can order your copy right here.