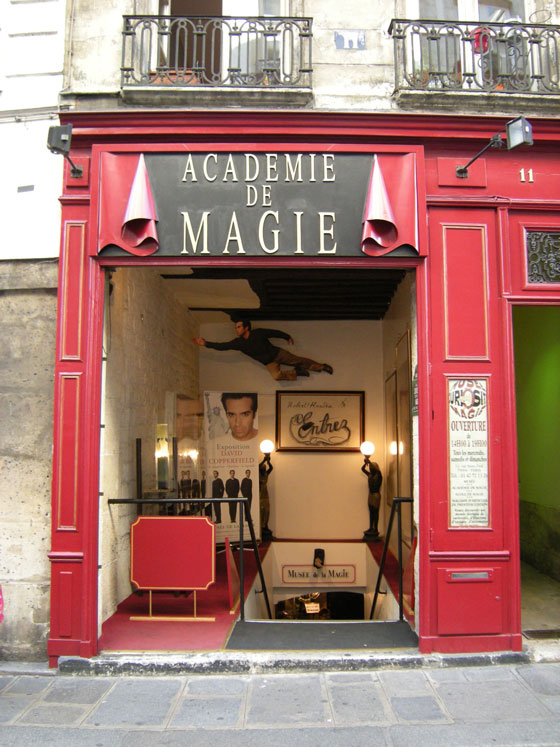 This post is from Vanessa Salamanca our artist correspondent in Paris-here's a link to her work.
Located in the Marais, one of Paris' historical districts is a unique, little-known museum. As you descend a discreet flight of stairs leading into the Musée de la Magie, you enter another world. Upon arriving, a strange hand emerging from a mysterious box welcomes you into the 16th century stone vaulted cellars, that not only host a myriad of magic memorabilia but a magician's school, and a museum of automata (a large, antique wind-up toy) as well. As you roam the small museum you are bound to come across a magician performing tricks right in front of you, see some of the devices Harry Houdini and other famous illusionists used, and lose yourself in a world of optical illusions, fortune telling machines, magic mirrors and other weird artifacts leading you through the history of magic from the 18th century to today.
My daughter loved this museum so much that we ended up hosting her 8th birthday party there.
This is how it went:
After the kids arrived, a magician took us on brief, interesting tour of the museum. Then the children were given some free time for exploring (one thing I love about this museum is that it's so small it's impossible for kids to get lost). We were then led into a theatre to watch a magic show, where the kids were invited onstage to participate. Then another magician taught the kids how to perform the tricks after the show. Once the expert had done his disappearing act, we were left to sing, eat our cake and enjoy the rest of the birthday goodies. The children had such a great time, they still talk about that day, even though it was two years and many birthday parties ago. The address is 11 Rue St. Paul.