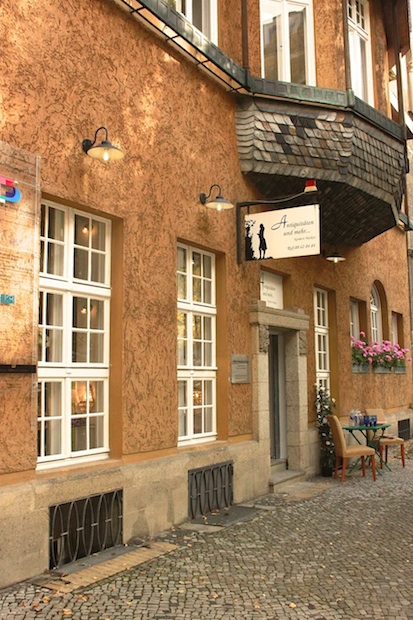 I, of course, have a crush on all things vintage: old furniture, bags, clothes and jewellery – they all tell a story about their secret past and convey the feeling of being one of a kind. And what else are we looking for in our lives?
When I am travelling, I always find inspiration in fleamarkets and antique stores and have found some beautiful ones in France and Italy. Sometimes I get the impression that one can sense the true, intimate biography of a country and its people most of all through their personal artefacts – beyond the immediate facade of history.
In Berlin I have a favourite antique store: NORBERT HÜSKEN, Antiques and more… on Mommsenstrasse in Berlin Charlottenburg. For my nine year old daughter and myself, it is like entering a treasure chamber and Mr. Huesken always has new surprises in store for us: Costume jewellery collections from the 20's right through to the 60's (such as Miriam Haskell, Coro, Trifari, Vendome, Dior & Chanel), beautiful tea-services, silver, amazing bags and hats with feathers, Swedish and French chandeliers, European linen & embroidery, crystal cut glasses – the list is endless. It's an amazing paradise for connoisseurs and people with a faible for the real stuff. Norbert Huesken Antiques ship worldwide.

By the way, the Elfen Couture Showroom is also styled using antiques, antique fabrics, lamps, mirrors and other vintage furniture – and we love giving them a modern twist, for example by covering an old chair with new fancy fabric. To me, creativity and innovation are at their best with "the accomplished use of imperfect funds", so wisely stated by Oscar Wilde.