The girls just loved these simple, natural wooden toys made right in the US from Tree Hopper Toys. The bots that stack in so many ways were the real winners. 
Call me crazy but I took the girls to their very first trade show with me. Yep. We hit the NY NOW gift fair yesterday and rocked it! And they were actually pretty good seeing that it was a stimulation explosion. They treated it like the best playdate ever, playing with every toy in site. And the exhibitors were all great about letting them have fun.
This fair is huge and there was so much to see, so we stuck with looking at only things relating to kids. And even that was an enormous selection. And here is just a very small selection of things that we really liked.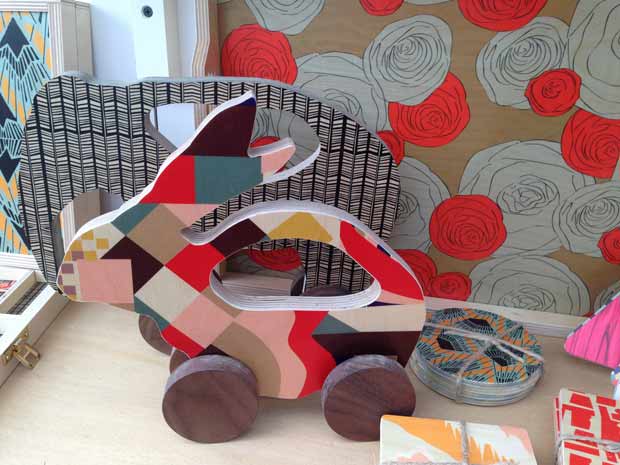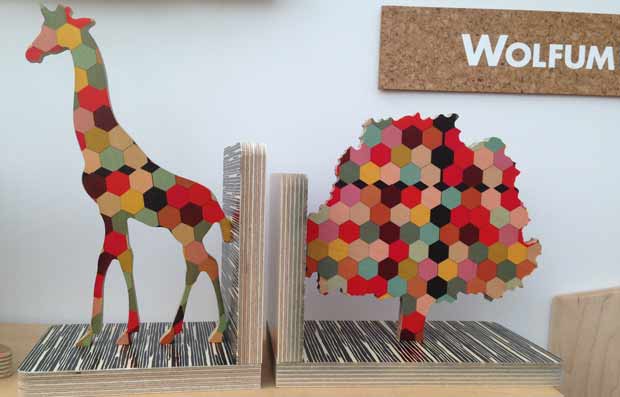 What modern and fab things from Wolfum. The pieces are all made from wood that has been printed and then handcut. I'm a fan.
It was so great to meet the people from Eco-Kids USA. We have been buying their art supplies for years as they were the only non-toxic paints and playdoughs for ages. They have really expanded their range of products with all sorts of wonderful things.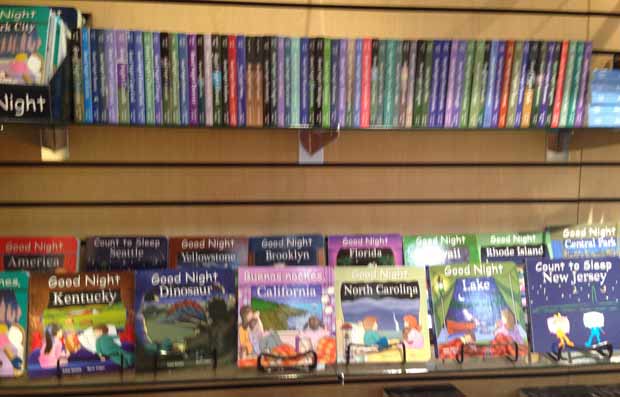 Okay, so this is a really blurry photo (hard to keep things steady with two kids in tow) but we were so thrilled to meet Adam Gamble, the author of all the Good Night books! 
Now for a bit of fashion: A very good quality and simple cotton range with block prints from label, Muny. And that's one of the adorable rage dolls from Snuggli Ugli sitting there!
 I love toys that are super creative and here we have Yoxo! A very simple concept that lets kids build simple robots and cars and animals. And the connectors can be used to build an endless number of things.
Solène getting stuck into this very simple and addictive toy (or lots of little toys) from ++ (that's pronounced, "Plus, Plus") made in Denmark. They are shapes that make endless designs. 
Sweet, sweet baby bonnets from The Blueberry Hill.
This ride-on toy from Dutch company Roomii was a huge hit. I could hardly drag them away from this. The great thing is that it's also a toy chest.
Here they are playing around with the very sweet non-toxic toys from Jack Rabbit Creations. These are for babies but the girls really liked them. 
And last but not least, the girls went absolutely crazy over the Piggy Paints. And the fantastic thing is that these varnishes are completely non-toxic and odorless. What more could Moms want?