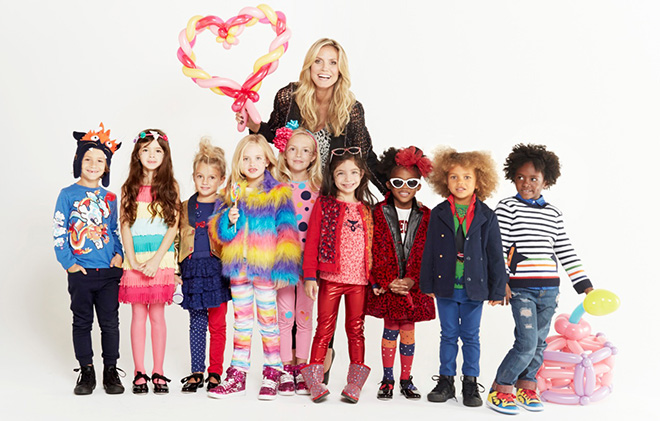 Unfortunately, I missed Petite Parade a couple of weeks ago but lucky they covered it so well on the Petite Parade site! Here is my excerpt from their full rundown, which you can see right here!
Above is Truly Scrumptious by Heidi Klum, exclusively at Babies"R"Us
Day one of petitePARADE opened with the first birthday of Truly Scrumptious by Heidi Klum, a line exclusively sold at Babies"R"Us. The collection featured a variety of illustrated patterns and textures, pops of color, and balloon art for an overall fun catwalk experience. "It was so exciting to be part of petitePARADE to celebrate the first year of my 'Truly Scrumptious' collection for Babies"R"Us with my first runway show!" raved Heidi Klum.



Swarovski Showcase (above)
Following the parade, Swarovski, the global leader in cut crystal and fashion jewelry, presented a runway showcase featuring embellished looks with Swarovski crystals from designers Baby CZ, BabyDoll by Dorian Ho, IKKS Junior, Junior Gaultier, Lili Gaufrette, Little Marc Jacobs, Milly NY, Mischka Aoki, Nina Kids Shoes, Ooh! La, La! Couture, Pale Cloud, Pituchinhu's, Roberto Cavalli Junior, RUUM, Salsa, Simonetta, T-Shirt T-Shops, and Tartine et Chocolat. Sean "Diddy" Combs sat front row to catch his daughters' runway debut at petitePARADE. The featured looks will be available at select retailers as soon as Holiday 2013.

Parsons: The New School for Design
Wrapping up day one, Parsons: The New School for Design presented innovative, eye-catching collections by alumni childrenswear designers Talia Handler, Julia Passafiume, Ariana Breall, Aracely Santamaria, Nicole Monfils, and Paige Fleming.

petiteGUESTS at the Step & Repeat