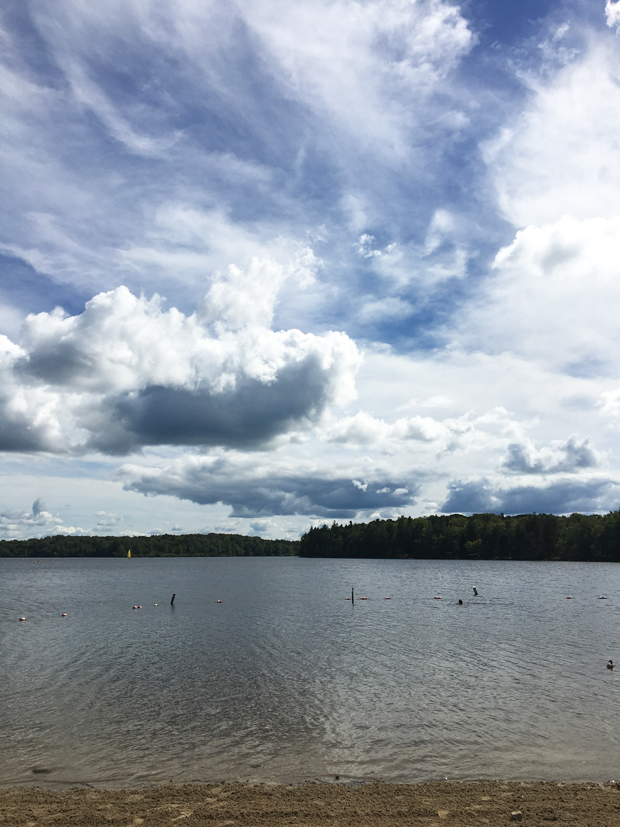 We had an incredible mini-vacay over the Labor Day weekend and our first stop was spending a day at the breathtaking Promised Land National Park in the Poconos. (More later about where else we went after!) The lake here is amazing and the skyscape out of this world. We had a nice picnic and then spent the day relaxing on the lake beach. Solène even caught a tiny jellyfish,which is in that water bottle. We took it all the way home and are finding out what to feed it!
Promised Land State Park is in Blooming Grove, Greene and Palmyra Townships, Pike County, Pennsylvania, in the United States. The approximately 3,000-acre (1,214 ha) park is mostly surrounded by Delaware State Forest.
And of course, I love finding out the history of places we go, so here's a bit on Promised Land below: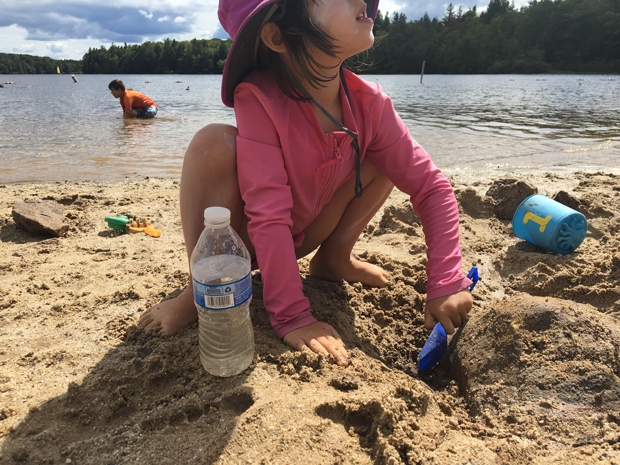 The name is an ironic commentary of the immigrant residents in the 18th and 19th centuries who had been dazzled by promotional promises of the supposed wonders of the land they were buying, reflecting their later disappointment.
Promised Land State Park was once the hunting grounds of the Lenape Indian tribe. Their land was part of the Province of Pennsylvania, established by King Charles II of England and under the leadership of William Penn. William Penn founded Pennsylvania as a colony where religious freedom was the foundation of its establishment. The Shakers, a religious sect, from England, migrated to the Thirteen Colonies and purchased some of the land in the Promised Land State Park area. They chose not to settle and instead sold off the land to lumbering operations that clear cut the land and sent the timber to the ship building docks in Philadelphia. The process of clear cutting the forests repeated itself several times until the land was acquired by the Commonwealth of Pennsylvania in 1902. The forestry department worked to re-establish the forests of the area. Promised Land State Park was opened to the public in 1905, becoming just the fourth state park in all of Pennsylvania.