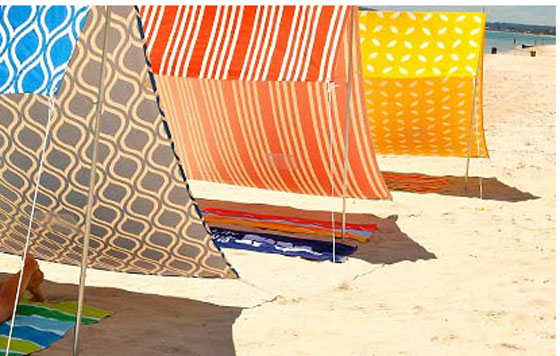 How great are these Sombrillas from Hollie and Harrie, designed by two sun-conscious Mom pals in Melbourne. (BTW, I used to live in Melbourne a long time ago). What a stylish alternative to an ordinary umbrella or beach tent with these gorgeous, bright patterns. And the ingenious thing is that they adjust as the sun moves, providing full shade all day long, but are so open and airy.
They are not yet widely available in the US, but if you go directly to their website and mention Bellissima Kids, they can arrange something for you. Too late for this week but still lots of summer to go.
I wish I had spotted this weekend beach pick earlier because on Monday I set off for East Hampton and this would have been ideal. It will be the first time I go on a long car trip alone with the girls. Let's hope I come back in one piece! I will be letting you know what we get up to over there when we return. If anyone has some tips for things to do in East Hampton with kids, don't hesitate to comment.