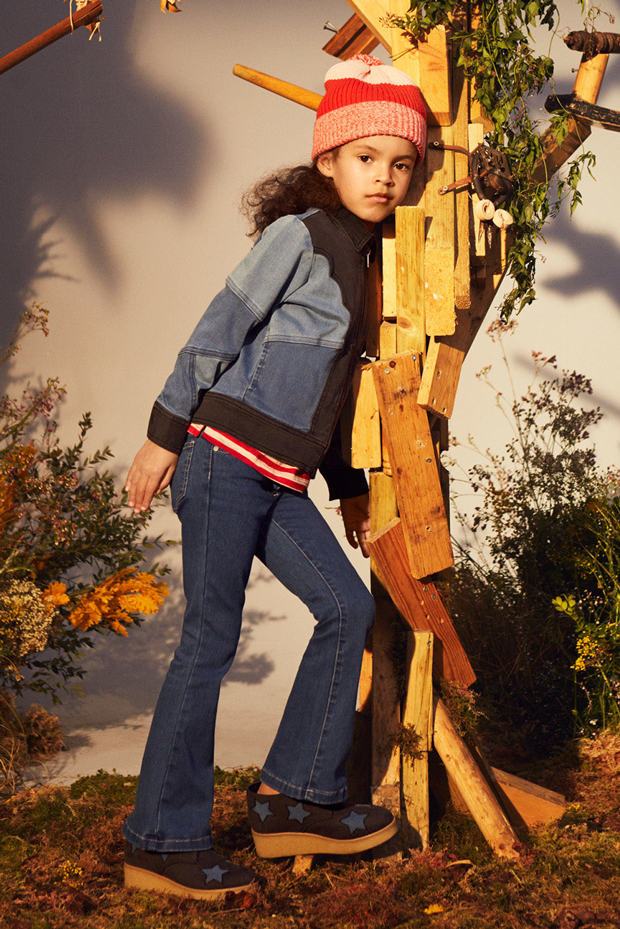 The Stella McCartney Kids Fall Winter 2017 covers babies in ever so cute penguin costumes to cooler-than-cool tweens.
This collection has the customary Stella McCartney animals in the mix and is a real "Swan Song" with swans featured in all sorts of prints, motifs, colors and situations! The collection features splashes of red, which is big for this coming season, mountains and American League Football helmets.
Animal prints feature heavily  and the whole range has a cool 70's vibe.
And of course, the Stella McCartney label is still committed to being a responsible, sustainable brand. Throughout the new collection for kids and adults they use innovative and recycled materials such as organic cotton, sustainably-sourced viscose, recycled nylon and cruelty-free Skin-Free-Skin.
In fact, the Winter 2017 campaign focuses on waste. It is expected that plastic production will triple by 2050 when the population explodes to almost 10 billion, so the company is using the range as a vehicle to raise awareness of the issues of waste and overconsumption.
The styles for the women's range are fairly futuristic as you can see by the designs below. The video is also pretty interesting. You can view it here. 
And click here to see the entire Stella McCartney Kids Fall Winter 2017,