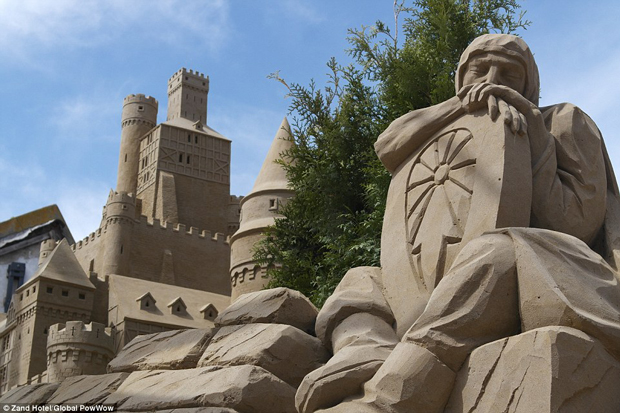 The World's First Pop-Up Sandcastle Hotel has happened in the Netherlands and I can't think of a cooler place to take the kids. Well, not as cool as the temporary ice hotels that sprout up around the world each year. However, visitors to those hotels are subjected to sleeping on ice beds in sub-zero temperatures and have no access to electricity or Wi-Fi. The guests at the two sand hotels do not have to suffer through such hardships.

That's because even though the structures are made from sand, the one-room suites that cost $172 USD a night, are equipped with all the luxuries of a regular hotel. So no worries about sleeping on beds made from sand or washing up in a crumbling sink.  The rooms are decorated with stunning sand sculptures and contain standard beds, and amenities. The price even includes a European breakfast and a complimentary tour of the nearby sand sculpture festival.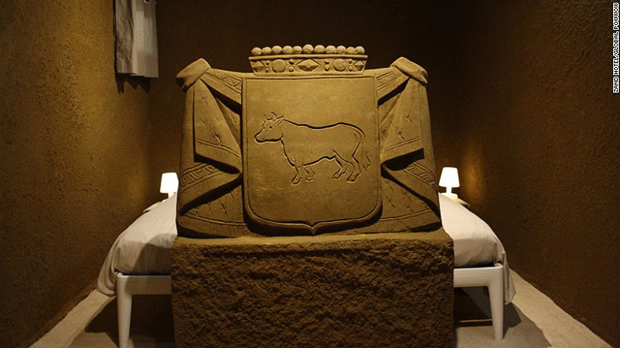 The hotels were built to coincide with the popular Brabant and Friesland sand sculpting festivals that the cities host annually from May to September. In keeping with this year's theme "a journey through time," the sand hotel in Oss depicts Bedrock, the hometown of everyone's favorite Stone Age family, the Flintstones.
However, some lucky visitors to the Netherlands can experience both thanks to two new pop-up sand hotels in the cities of Oss and Sneek.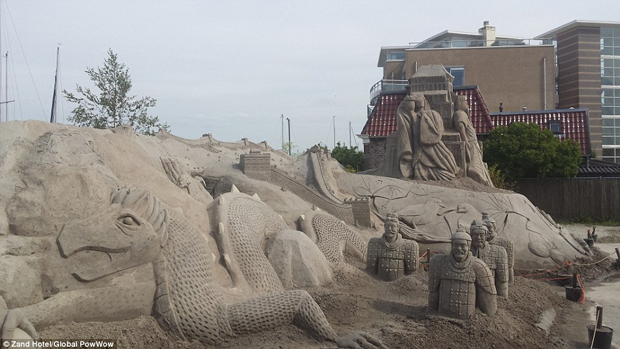 Those visiting the hotel in Sneek will be able to enjoy "a trip around the world (to Asia)," thanks to the 30 massive sand sculptures that include the Terracotta Army, the Great Wall of China, and numerous dragons.
Building the life-sized sand castle hotels that can accommodate humans was no piece of cake.  The construction company, Global PowWow, says it took five weeks and over 2,000,000 pounds (800,00 kg) of sand to build each temporary room. To ensure the buildings were safe and sturdy, the construction team first created wood frames and then covered, both inside and out with reinforced sand. As to what they used to bind the dirt so it would not crumble into a giant heap? Global PowWow owner Alec Messchaert, say that will remain a big secret!
These one-of-a-kind hotels are a huge hit with both locals and visitors and have been fully booked since they opened in early May. Unfortunately, the temporary structures will soon have to come crumbling down. The one at Sneek will shut its doors on September 29th while the Oss sand hotel is scheduled to close October 4th. But never fear. The developer already has plans to rebuild the giant sandcastles in the Netherlands next year, and also take the concept to similar festivals in the U.K. and Germany!