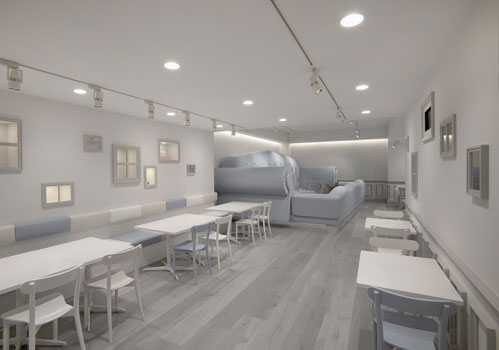 This is from Yuko Suzuki, our Tokyo correspondent from Mamans du Monde blog.
If you are in Tokyo with your kid, one of the must-go-to restaurant/cafes is Tokyo Baby Cafe in upscale Omotesando, aka "Tokyo's Champs-Élysées". This famous architectural showcase street, features a multitude of fashion flagship stores designed by internationally renowned architects. These include the Louis Vuitton store (by  Jun Aoki), Prada building (by Herzog & de Meuron), and Dior (by SANAA), amongst others.
But back to the cafe…Only parents with children under 7 years old and pregnant women are allowed in, so you don't have to worry about your baby bothering other non-parent people. It's a parents' paradise. They offer a variety of baby/kids' menus from mild curry to udon noodles to pain au chocolat, and there's a play space complete with an impressive, gigantic sofa for the little ones to go wild in. Boredom is not an issue here. The atmosphere and interior design of the cafe is very stylish and comfortable – they use custom-made Cassina furniture and there's also a nursing room. Joy. There is a fee for adults of 500 yen (6 USD) per half  hour (kids are free) and it's worth every yen.
Also, every year Omotesando is the venue for Tokyo's Saint Patrick's Day Parade. Check out this adorable video of baton twirlers at the Tokyo St. Paddy's parade.