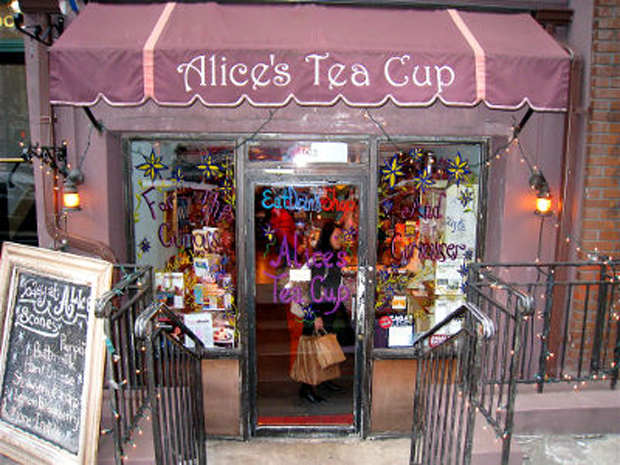 I thought it was about time I weighed in on eating in New York City with kids especially because we do eat out here quite a bit in the Big Apple! This pick of our top 5 family restaurants in NYC dishes up what counts for the little ones while satisfying your adult hunger…whether it's the best mac n' cheese or just a good slice of pizza. Of course, there are many more places we love but I narrowed it down for you. And at these places, you won't have that uncomfortable feeling that your kids are a nuisance to non-kid people. And I think it's just more evidence that despite what people may think, nyc is the best place to raise a family. Okay, so one of the best places!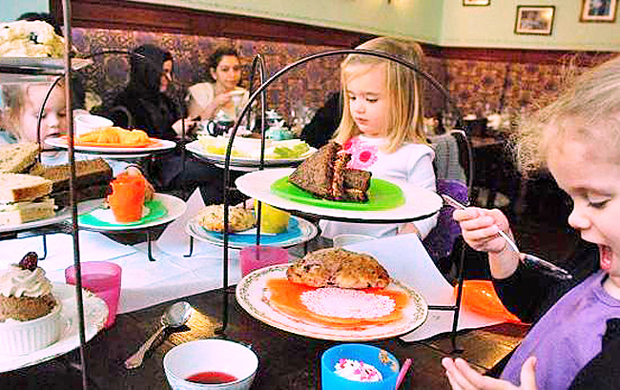 This is hands down the favorite place where the girls love to go –  I would say anywhere in the world! Great lengths have been gone to in making this place magical, from being sprinkled with fairy dust as you enter to all of the Alice in Wonderland original paintings and decorations (created by one of the owners, Lauren Fox) to every single detail. At this cute cafe, the kiddos can enjoy a proper tea service and a menu that is a good mix of things that the little ones eat and a choice of adult fare. The sandwiches are large and delicious and are accompanied by big salads. The "Wee Tea" includes herbal tea or juice, tea sandwiches and scones served on retro mismatched china. The "Menu for the Small" has more kid-friendly sandwiches like PB&J on banana bread and of course, the no-brainer: chicken fingers. There are many, many cupcakes and sweets to choose from.
There are three locations, one as charming as the next.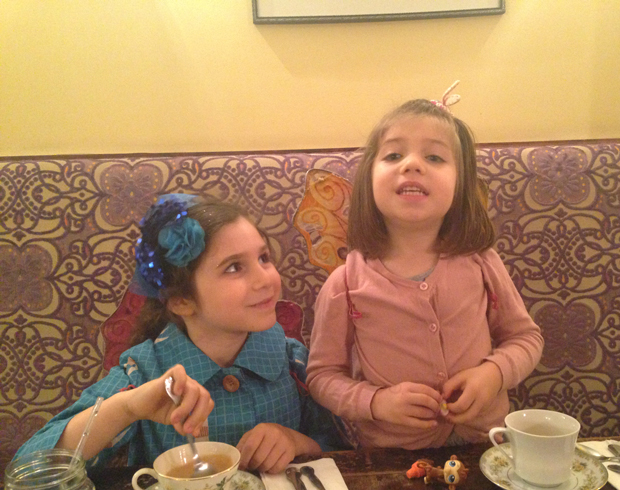 And here is a photo that was taken today at Alice's teacup. I told you we love it.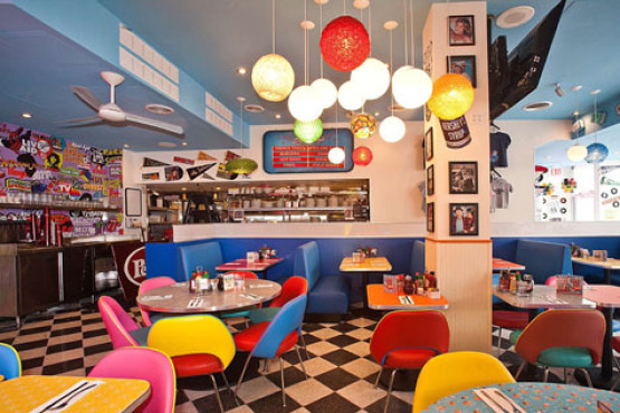 This larger than life Diner is perfect for kids. Nothing subtle here. Portions are big and ambiance is bigger. Kids are catered to with their own menu, which of course, includes hot dogs and chocolate chunk mini pancakes. The walls will keep them occupied by lulling them into a trance with the pop culture memorabilia. The whole family is welcome for their monthly family trivia nights. And they do birthdays there in the restaurant's private party room so you could practically move in here.
There are three locations in the city and one opening in Dubai!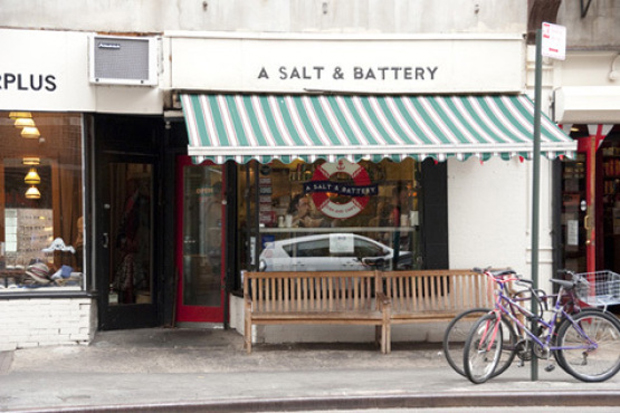 Okay, now for a quick bite fave. The name alone does it for me – too funny. But much more than a name. Owned by the same people who run Tea and Sympathy (my fave tea place but not for kids) a few doors down, they dish up true Brit fish 'n chips because these people are True Brits! If your kids love fish sticks, A Salt & Battery has fab ones. And they have convinced me of their claim to be the sole "truly authentic" chippy in Manhattan. The miniature fried "fish bites" are perfect for tiny fingers, and the chips satisfy my chips connoisseur standards. The frying doesn't stop with dinner either—dig into a deep fried Mars bar, Toffee Crisp or Lion bar (all favorite British candy bars) or banana and pineapple fritters.
112 Greenwich Ave , (between 12th and 13th Sts)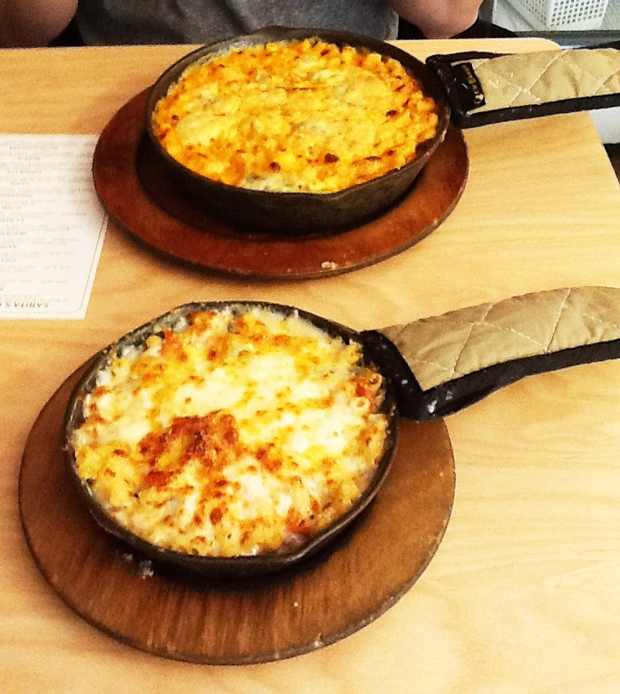 S'MAC (short for Sarita's Macaroni & Cheese) is an exciting eatery for the kids. They specialize in, you guessed it, Macaroni & Cheese! I think that S'Mac really means Crack (for Kids) because the girls are in a sort of higher state whenever I mention it. Kids will think they've died and gone to food heaven at S'Mac, which elevates a childhood staple to the gourmet level. There are a dozen varieties of mac to choose from, like the Cheeseburger with cheddar and American cheeses and seasoned ground beef; all served in personal-sized skillets. The "nosh" size is perfect for kiddie appetites; and families can order the "mongo" and the kids can fight over the leftovers the next morning!
They have two locations in Manhattan.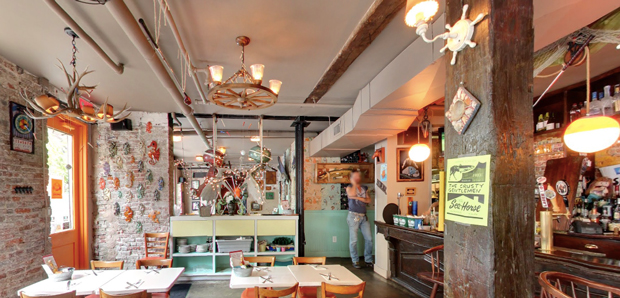 Now this is my special pick for you. I almost didn't post it because it's our best secret up until now. It's at the South Street Seaport which is like another whole world…but back to this restaurant. What we love is that there is a bar and that people and kids and families all mix so seamlessly here. The nachos are the best in the world. Yes. I just said that. This is the sister restaurant of Cowgirl in Greenwich Village. The kids' menu at this Southwestern spot features lots of reasonably-priced dishes, including the famed Frito Pie which kiddos can enjoy eating straight out of the bag. Other old frontier-themed favorites include "corndoggies" and pulled pork sammys  served with French fries and corn on the cob. Finish off a gut-busting meal with the "#1 best dessert ever," a sharing-sized ice cream sundae. And when you finish you can stroll around the Seaport and maybe even go on a old ship tour!
259 Front St, New York, NY