Ukrainian Easter Eggs
March 26th, 2016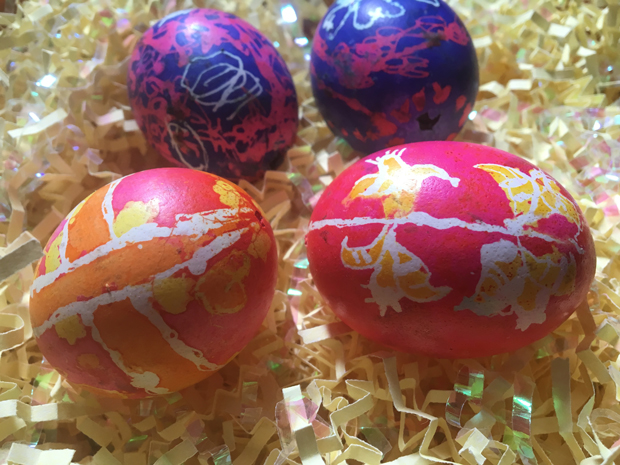 So, I did promise that I would post our Ukrainian Easter Eggs and here they are! Well, I would say they are more Ukrainian inspired but we did use the same method and same tools as a Polish friend came over last year and showed us how. The girls made these, and I think they came out quite well.
If you want to try this yourself, go here to see step-by-step instructions.

Pysanky is a traditional craft from Ukraine and Poland. Patterns are drawn on the egg with wax, which then protects the covered areas from the dye that is applied. By repeating this process with different colors of dye, a multi-colored pattern is built up. Finally, the wax is removed to reveal the colors that were covered up at each stage.
Traditionally, the eggs were left whole but you can also blow them out which I did here.
Here is what you need. You can find the beeswax and all the other things at Ukrainian or Polish shops.
Eggs
Pure Beeswax Block
Candle
Kistka
Dyes
Pencil
Heat Tool (optional)
Paper Towels
Before you begin, don't forget to wash your hands. Oils on your hands can get on the egg shells and cause uneven dyeing. It helps to make sure your hands are clean before you start handling the eggs and always start with room temperature eggs. cold eggs will sweat marring your pencil lines or your dye.
And have fun!!
Happy Easter to you and yours! Much Love and Peace, jeanne xox