VOYAGE ON THE ROOSEVELT ISLAND TRAMWAY
July 9th, 2011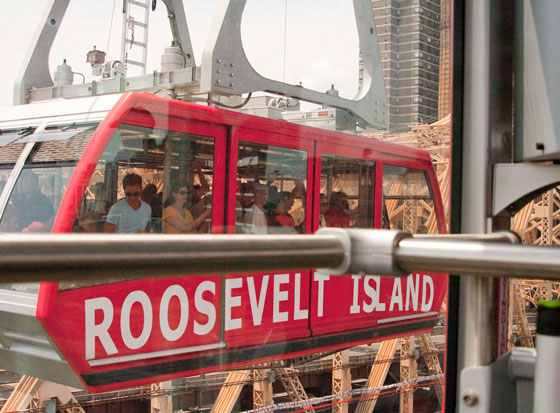 For July 4th, we were invited to a picnic on Roosevelt Island by our friends John and Kyoko and we decided to take the Roosevelt Island Tramway. It was boiling and I was carrying the baby on my back and Oona was cheering me on in climbing all the subway stairs (all the elevators were on strike) and maybe we should have taken the subway all the way instead of walking to the tram, but once we were up there, it was all worth it.
This is the view from the cable car below, soaring over the East River with the Queensboro Bridge to the right. The little pink hat is Oona's-she was transfixed. I was scared in an exciting kind of way. I can't think of a bigger thrill for the price of a Metro transfer than this trip. Kid-friendly, yes. Kid-delightful…even more so.
You can catch it at 2nd Avenue and 59th street in Manhattan. The trams come about every seven minutes. Once you're on the island, a red minibus meets the tram and takes you throughout the island for 25 cents. Can't beat that.